Sending Flowers to A Funeral? Here's What to Write in the Card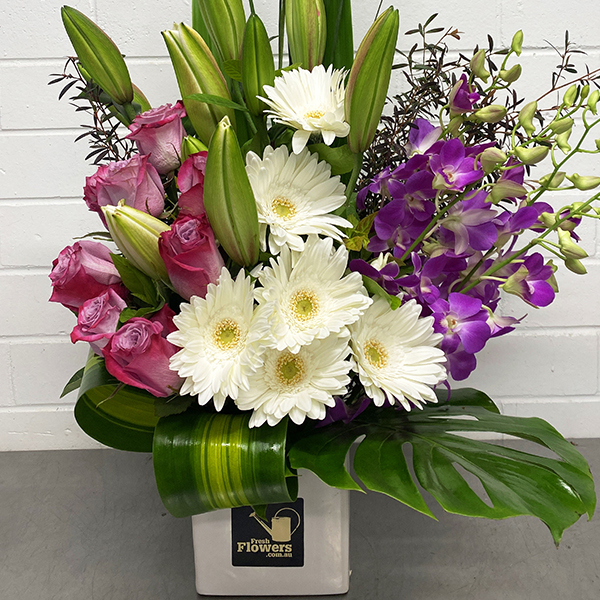 The passing of a loved one, friend or even a pet is always an extremely challenging time. Sending flowers and a heartfelt condolence message to the funeral or memorial service is sometimes the least you can do, especially if you're unable to be with the grieving family. However, finding the words to express your grief and to convey your condolences to the family is not easy. Although it is difficult, writing a sympathy note is important. It offers support to those who are suffering from the loss when they need it most and adds a personal touch to your flowers.
If you're wondering, "What should I write in the sympathy card?", we've put together this article to help you pen a sympathy message that is authentic and heartfelt.
Some General Guidelines for Sympathy Notes
The right words for your funeral card message will depend on your relationship with the deceased and their family. However, there are a few guidelines you should follow:
- Be authentic, often the first thing that comes to mind is best
- Keep it short. If you are lost for words, a sentence or two is fine
- Sharing a pleasant memory of the deceased adds a sincere touch to your card
- If possible, extend your message of sympathy to each member of the immediate family
Next, it's important to compose an appropriate message depending on who the family has just lost. Let's take a look at some sympathy card wording ideas for the loss of a parent, grandparent, friend, colleague or pet.
Sympathy Message Wording Ideas for Loss of a Mother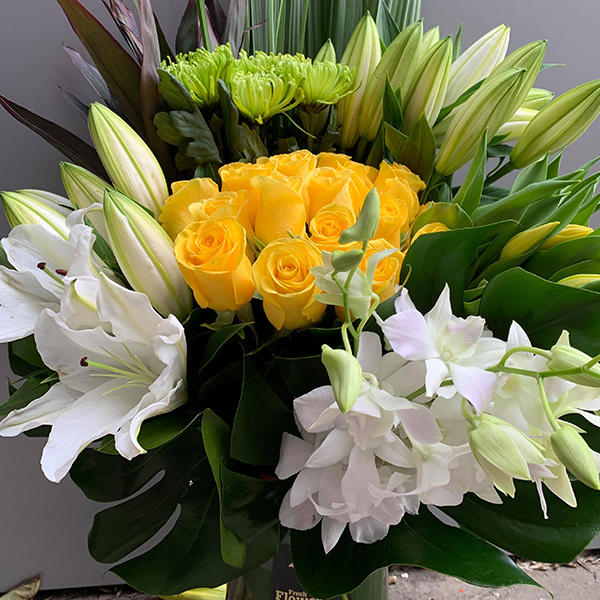 The passing of a mother can be one of the most difficult losses to deal with for many people. If you're not sure how to write your funeral card message, here are some ideas:
- "Your mum was such a beautiful lady. I'll never forget her warmth, kindness and wonderful laugh."
- "Your mother was one of the most inspiring people I have ever met. She has brought much happiness to all of us who knew her and will be greatly missed."
When sending funeral flowers for the loss of a mother, an elegant arrangement of lilies, roses, chrysanthemums or gerberas can be a good choice. Choose pastel shades such as light pinks, light purple or the classic white.
Sympathy Message Wording Ideas for Loss of a Father
The passing of a father at any stage of life is an incredible loss. To help you express your deepest sympathy to the family, here are some examples for your message:
- "Your father will be greatly missed by all who knew him. He was caring, generous and always ready to help others in need. We are thinking of you and your family."
- "What an amazing person your dad was. I'm very grateful that I had the chance to know him."
Suitable sympathy flowers for the passing of a father could include a native arrangement that includes banksias and proteas, or a simple bouquet of white gerberas or lilies.
Sympathy Message Wording Ideas for Loss of a Wife
If someone you know is mourning the loss of their wife, it is hard to know what to say. Here are some examples of funeral card wordings for someone who's just lost his wife:
- "Liz was a wonderful person and she will be greatly missed. I will always cherish the fond memories I have of her."
- "I feel so lucky to have known your wife Donna and will always remember her sense of humour and generous spirit."
When sending funeral flowers for the loss of a wife, you could choose beautiful mixed roses or a bouquet of peaceful white lilies. If the lady was full of life, brighter colours to pay tribute to her lively personality may be appropriate.
Sympathy Message Wording Ideas for Loss of a Husband
Writing a sympathy note to a friend or family member grieving the loss of their husband is never easy, so here are some ideas to help you get started:
- "Harry was a great person who had a kind word for everyone. This must be such a difficult time for you, and I offer my deepest sympathies."
- "I know that words are inadequate at this time as you deal with the loss of Tom. But I want you to know that I am so very sorry for your loss and you're in my prayers."
When it comes to flowers for the loss of a husband, you could choose an arrangement of lilies, either in white or coloured, or a combination of both.
Sympathy Message Wording Ideas for Loss of a Grandparent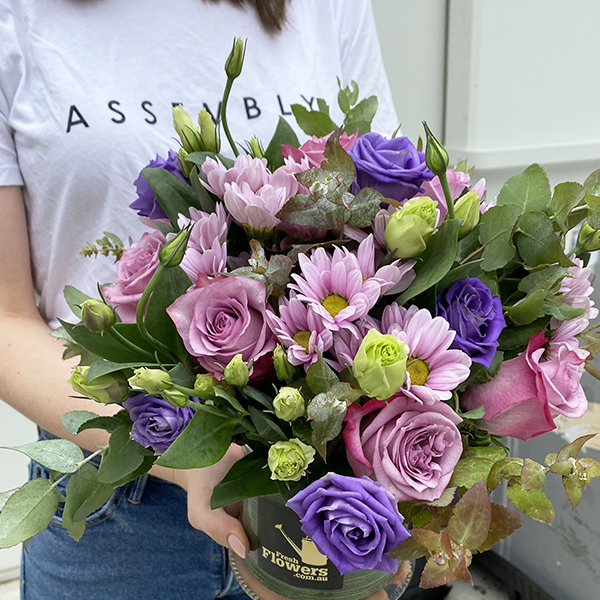 If a grandparent has passed, and you're sending funeral flowers, here are some caring words for your card:
- "What a special person and what an amazing life. Your grandfather had a wonderful sense of humour and a kind heart. We will miss him."
- "Your grandmother was such a strong and caring lady. I am so grateful to have known her. My heart goes out to you for your loss."
Funeral or sympathy flowers for the loss of a grandparent could include a classic mixed bouquet of roses, lilies, carnations and gerberas. If you're sending flowers to the funeral home, consider sending a peaceful wreath or a funeral casket cover.
Sympathy Message Wording Ideas for Loss of a Friend
If someone you know has lost a close friend, a sympathy note can provide comfort. Here are some card messages if you're struggling to find the right words:
- "What an amazing lady your friend was. She was a joy to be around and her positivity and kindness touched the lives of so many."
- "I'll always remember your friend's big smile and sense of humour. He always made me laugh. My thoughts are with you."
When selecting the right flowers to send, a colourful bouquet of gerberas, a white potted orchid or a posy of carnations can help to brighten a room during this sad time.
Sympathy Message Wording Ideas for Loss of a Colleague
The loss of a colleague can be a terrible shock. Here are some ideas to help you write a thoughtful funeral card message for someone's who's dealing with the death of a colleague:
- "Tim was a truly wonderful person. Talented, generous and always smiling. I am deeply sorry for your loss."
- "My condolences on the passing of your Tara. I know how important she was to you and I'm sure she will be missed by all who knew her."
A simple but elegant bouquet of white lilies is a good choice for flowers, or if you'd prefer something colourful, a mixed arrangement of roses or gerberas is another option.
Sympathy Message Wording Ideas for Loss of a Pet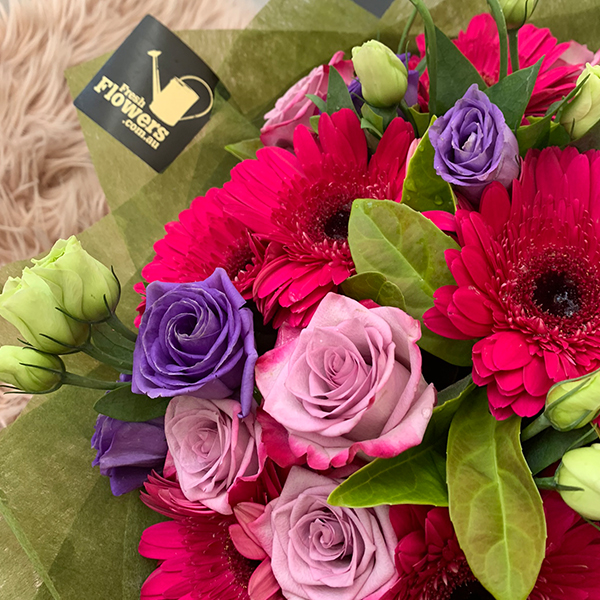 Losing one's beloved dog, cat or any other pet can be extremely upsetting, as they're part of the family. Here are some message ideas to console someone who has just lost a pet:
- "I'm so sorry to hear of the passing of Bruno. He brought so much joy to everyone. Thinking of you during this sad time."
- "Lucy was more than a pet, she was an amazing and much-loved friend. My deepest sympathies to you and your family on her loss."
A simple but classic bouquet of colourful flowers can help lift the spirits of someone who has lost their pet. Lilies, gerberas or orchids are a nice choice.
A Thoughtful Sympathy Note with Flowers Means a Lot
When sending flowers to a funeral, remember that less is often more. If you're not sure about what to write, keep it short and genuine. When you speak from the heart and your message is thoughtful and authentic, it will always be appreciated by the grieving family.
Are you having trouble choosing the right funeral or sympathy flowers to celebrate the life of someone who has passed? Contact our customer service team for helpful advice.