A Guide to the Colour, Meaning and Symbolism of Lilies
Lilies are versatile, classic and come in a variety of different colours. These stunning flowers are the perfect option to not only pamper a loved one for an anniversary but also to be given or displayed at funerals or to show sympathy. That's not all, vibrant lilies are a fitting gift to celebrate a milestone such as a promotion at work, graduation, or even a new home!
Did you know that the lily flower was discovered more than 2,400 years ago? Historically, lilies hold a reputation for being majestic flowers in ancient Greek mythology, where it is believed that Zeus' wife Hera, is the creator of lily flowers. In fact, it were the drops of her milk that fell to the ground (after refusing to feed Hercules), which were believed to be the seed to growing lilies!
Find out how different lily colour meanings can help you express a range of feelings without saying much at all, and the different variety of lilies that symbolise those perfect moments in life.
What Do the Different Lily Colours Mean?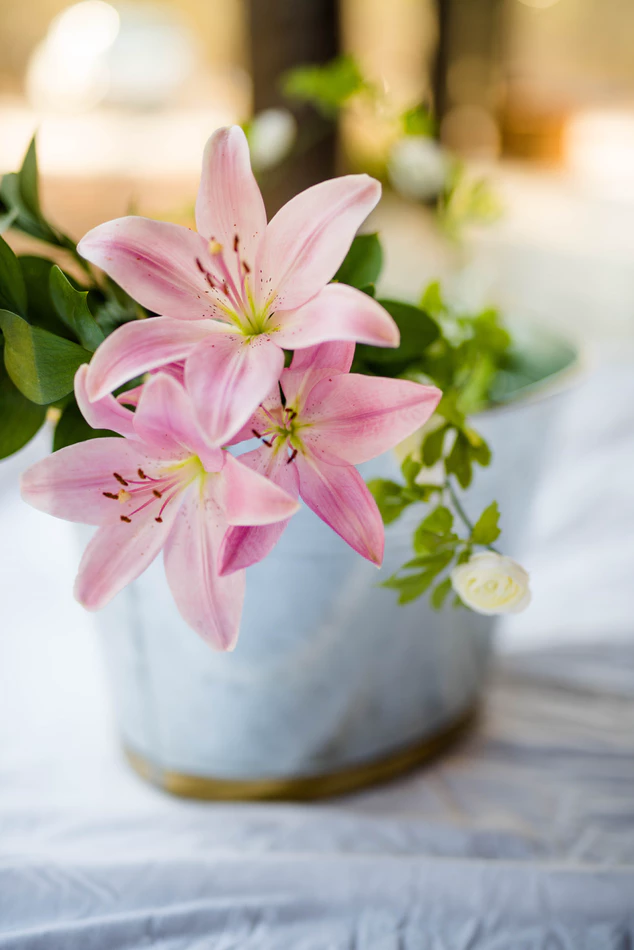 Different colours and types of lilies hold a variety of meanings across the world in different cultures. Generally, lilies represent purity, passion, rebirth and royalty. However, these meanings can change based on the colour and occasion. On that note, let's take a look at the different lily colour meanings.
Pink lilies stand for love, admiration, compassion and femininity
The colour pink stands for love, admiration, compassion, femininity and understanding. Pink coloured lilies, too, represent these emotions. Choose sweet pink lilies when you want to send your mum, aunt or sister some love. Lilies in different shades of pink are also apt for that special someone you fancy. Take a beautiful bouquet of lilies along on a date or surprise them with a delivery of fragrant pink lily flowers on an anniversary.
Florist tip: When you want to show your admiration or passion, beautiful pink lilies are the perfect flowers to gift.
White lilies represent purity and modesty
White is usually associated with purity and heaven. Fresh and crisp, white lilies also represent purity and modesty, making them the flower of choice for funerals, condolence messages or an accompaniment to a sympathy card.
White lilies are also the perfect way to tell that special someone that you are on cloud nine with them and how much they mean to you. What's more, they are also a grand addition to any bride's floral bouquet to convey the purity of their love for their partner and commitment in marriage.
Florist tip: Choose serene white lily flowers for funerals, understated decor for weddings and other solemn church ceremonies.
Yellow lilies evoke happiness, joy and lightheartedness
Shades of yellow encourage feelings of happiness, joy and lightheartedness. Bright and sunny, yellow lilies are sure to put a smile on someone's face! So when you want to tell a friend how much you value their friendship, yellow lilies fit the occasion as they are a symbol of friendship and gaiety. You can also tell mum, grandma or a close relative how much you value their presence by having a bouquet of yellow lilies delivered to them.
Florist tip: When you need to put a smile on a friend or dear one's face, surprise them by sending a bunch of fresh yellow lilies.
Orange lilies symbolise energy, warmth, confidence and honour
Orange is a strong and bright colour. It symbolises energy, warmth, confidence, passion & satisfaction in life. Just as vibrant as the yellow lilies, orange lilies stand out from the crowd. They usually symbolise honour and respect for a notable person. So if you want to express your gratitude to a particular person for a job they've done or appreciate someone's amazing work, orange lilies express just that.
Orange lilies are a perfect floral gift for important life milestones. They can also be used for funeral services, especially if the person was always bubbling with life and enthusiasm.
Florist tip: If expressing gratitude and admiration for an achievement or job well done is what you're after, a floral arrangement featuring cheerful and lively orange lilies is the best.
Purple Lilies represent pride, success, dignity, admiration & accomplishment
Purple stands for pride, success, admiration, dignity and accomplishment. Associated with royalty, purple lilies have always been regarded as being rare and exclusive. Because of this, purple lilies symbolise royalty, privilege and passion.
Purple lilies are perfect to gift to a special someone you admire or even to surprise by sending these your mum or grandma just because!
Florist tip: If the recipient loves luxury flowers, a lily arrangement or bouquet with a dash of purple will sweep them off their feet.
Lily symbolism

Historically, lilies are the flowers to gift when celebrating a 30th anniversary. But with so many different varieties of lilies, you don't have to wait for an anniversary celebration to send lilies. Each variety of lily has its own significant meaning. Choosing the right type can really make your bouquet or vase arrangements extra memorable.

Asiatic Lily: Symbol of Marriage and Purity
A popular choice when it comes to lily varieties, Asiatic lilies come in an assortment of colours. Because of the many different colours you can get with Asiatic lilies, they all hold different meanings and symbols.
White Asiatic lilies are often associated with marriage and purity within Western cultures. For occasions such as celebrating the birth of a newborn or new beginnings in life, orange and yellow Asiatic lilies are a perfect flower to celebrate with. Pink Asiatic lilies symbolise healing and romance.
Oriental lily: The Perfect Symbol for Weddings
These gorgeous flowers are the perfect symbol for weddings. Associated with the Virgin Mary, oriental lilies are also a symbol of purity and rebirth. They make the perfect wedding bouquet for a bride or to be given as a congratulatory gift to a person who has recently experienced a new milestone in their life.
Calla Lily: Symbol of Faith, Purity and Strength
Calla lilies hold different symbols in a variety of cultures and religions. In ancient Greece, calla lilies were often associated with beauty. In Christianity, it symbolises faith and pureness. In Western culture, it can be a sign of strength because calla lilies are able to rebloom if cut and regrown in a vase.
Tiger Lily: Symbol of Wealth, Positivity and Pride
Tiger lilies have a unique look to them and it's most likely because they have spots on their petals! These spotty lilies are associated with wealth and pride. Because of its vibrant colours, it symbolises positivity and confidence. Tiger lilies come in different variations of orange hues which makes it so vivacious!
Gift lily bouquets and arrangements for that special someone!
Lilies are a classic flower to gift and with so many different colour meanings and symbols, there is a lily for every occasion or that special someone. Simply order your lily floral arrangements by contacting our friendly team at Fresh Flowers today!